Democrats have hit hard on the narrative that President Donald Trump is taking children from parents and holding people in cages. That narrative has largely gone unchallenged in the media despite that fact that the Obama Administration had the same facilities and also separated families. Now, the Democrats on the House Oversight Committee had the ultimate tweet disaster by posting pictures of the objectionable conditions. The pictures turned out to be from the Obama Administration. They deleted the first picture after people noted the problem, but then reportedly posted an additional Obama-era picture.
The members posted the pictures with a tweet stating, "Last week, members of our committee visited a detention center at the southern border and discovered grotesque treatment of children. This week, we are examining the inhumane treatment of the children in these detention centers."
The mishap succeeded in highlighting the counterpoint that is often brushed over by critics as they portray the Trump policies as unprecedented.
That does not make any of these conditions or policies acceptable but the pictures capture the hypocrisy of members who said little during the Obama Administration, which deported far greater numbers.
Trump pounced with a tweet stating "House Democrats are promoting their "civil rights" hearing on "kids in cages" and "inhumane treatment" with a photo from 2014, when Joe Biden was Vice President. So dishonest!"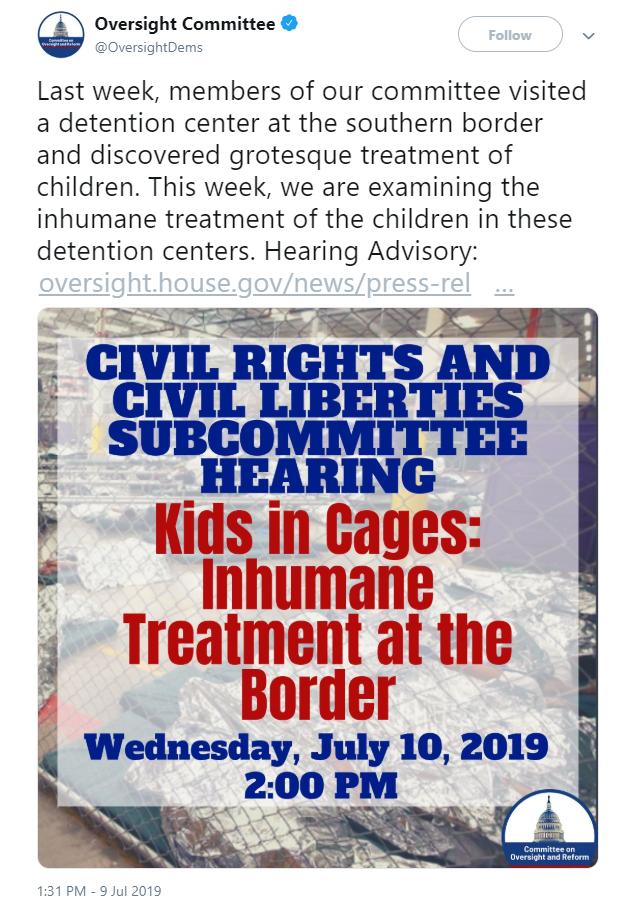 Here in red is the portion of the 2014 photo used by House Democrats today.

AP FACT CHECK: 2014 photo wrongly used to hit Trump policieshttps://www.apnews.com/a98f26f7c9424b44b7fa927ea1acd4d4 …2,1985:30 PM – Jul 9, 2019Twitter Ads info and privacy