This weekend in Jacksonville, police arrested 27-year-old Gregory Timm, who drove into a Republican voting registration tent, destroyed it, and then jumped out to celebrate his attack. This is just the latest in a long line of attacks and violent speech directed against conservatives on and off campuses. This incident follows a student screaming at young Republicans on campus at Arizona State that they should all have their throats slit.
One of the common complaints from conservatives is the media spends considerable time exploring President Donald Trump's rhetoric and how it fuels violence and hate speech. I have repeated criticized Trump for his rhetoric, but I also see dangerous rhetoric coming from his critics. That is not covered as much and certainly not treated as a pattern is violence against conservatives and Republicans or motivated by the politics from the left. There is virtually no coverage of how rhetoric from Democratic politicians may be fuel such attacks with claims of tyranny and treason.
In the latest attack, a white male in his 20s drove his van into a Republican voter registration tent in a shopping center parking lot – narrowly missing six volunteers. Undeterred, he then got out of the van, videoed the destruction, and flashed the middle finger at the volunteers before speeding off.
Photos posted by the Republican Party of Duval County showed van and the destruction:
Today in Jacksonville, Florida six Trump Campaign volunteers were intentionally targeted while registering voters.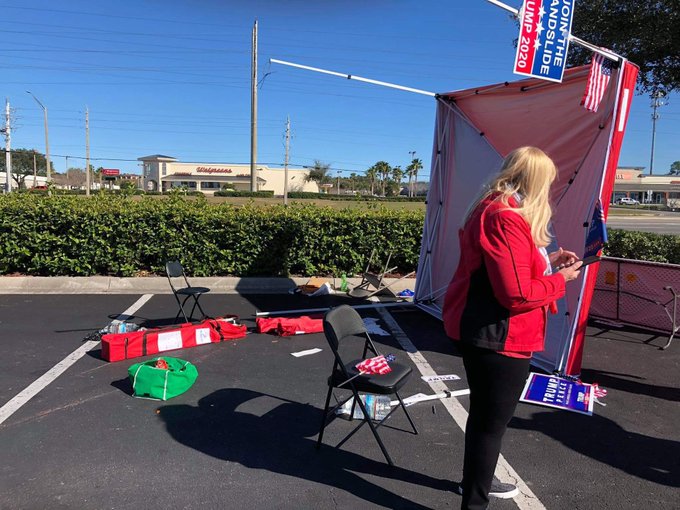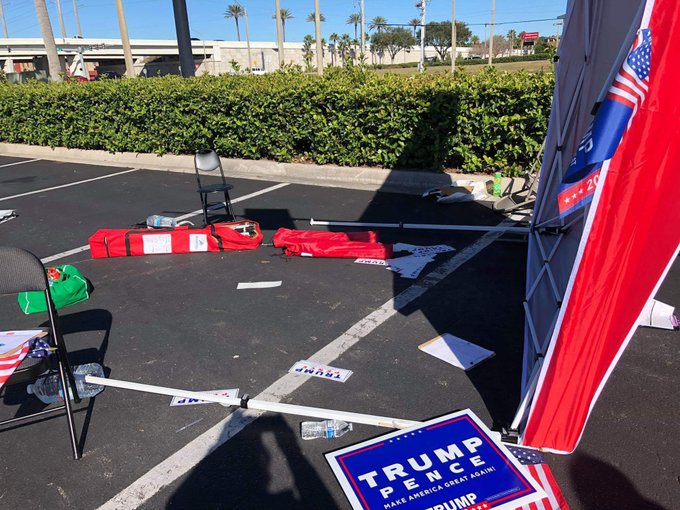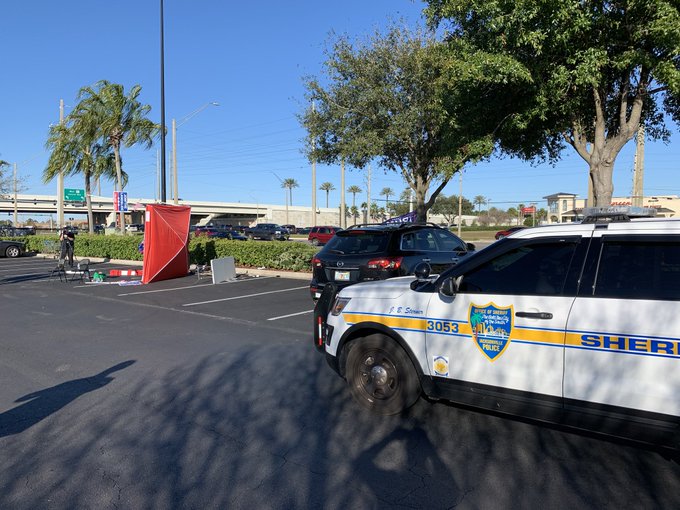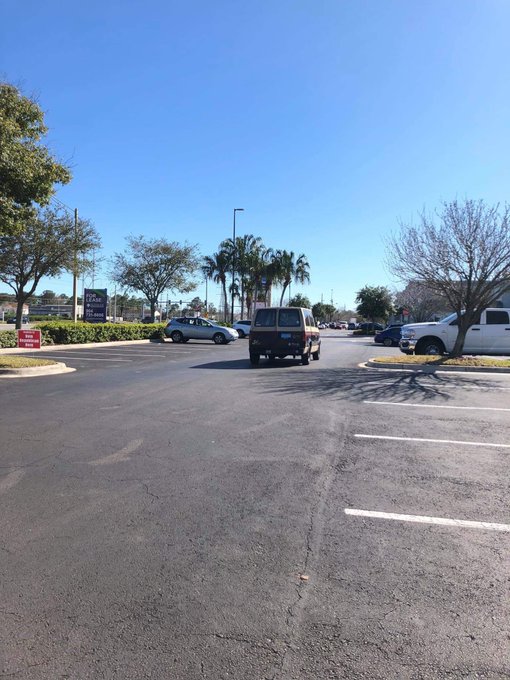 5,0335:36 PM – Feb 8, 2020Twitter Ads info and privacy6,225 people are talking about this
There is an interesting legal twist. The police initially announced that they were looking at charges not only for aggravated assault, but "interruption of the political process." That was a new criminal offense for me and I tried to look it up but found nothing by that name. Perhaps our Florida lawyers can assist us. I did find a crime specifically linked to registration efforts:
104.012 Consideration for registration; interference with registration; soliciting registrations for compensation; alteration of registration application.—

. . .

(2) A person who by bribery, menace, threat, or other corruption, directly or indirectly, influences, deceives, or deters or attempts to influence, deceive, or deter any person in the free exercise of that person's right to register to vote at any time, upon the first conviction, commits a felony of the third degree, punishable as provided in s. 775.082, s. 775.083, or s. 775.084, and, upon any subsequent conviction, commits a felony of the second degree, punishable as provided in s. 775.082, s. 775.083, or s. 775.084.
For now the charges appear to be aggravated assault, criminal mischief, and driving with a suspended license. Given his own videotape and the witnesses, the ability to plead down such charges may be limited, particularly with President Trump and U.S. Senators now highlighting the incident.
In the meantime, the age of rage was disturbingly evident in a recent incident at the Arizona State University. The video was virtually exclusively shown on conservative media sites:
ASU officials are still trying to identify the student.
It is common by some on the left to refer to conservatives as "fascists" to justify violent acts or speech. Such labels also support a growing movement against free speech, particularly on campuses.  I have previously discussed how Antifa and other college protesters are increasingly denouncing free speech and the foundations for liberal democracies. Some protesters reject classic liberalism and the belief in free speech as part of the oppression on campus.  The movement threatens both academic freedom and free speech — a threat that is growing due to the failure of administrators and faculty to remain true to core academic principles.  Dartmouth Professor Mark Bray, the author of a book entitled "Antifa: The Anti-Fascist Handbook" is one of the chief enablers of these protesters. Bray speaks positively of the effort to supplant traditional views of free speech: "At the heart of the anti-fascist outlook is a rejection of the classical liberal phrase that says I disapprove of what you say but I will defend to the death your right to say it." He defines anti-fascists as "illiberal" who reject the notion that far right views deserve to "coexist" with opposing views.
The question is whether such a video calling on all "fascists" to have their throats slit by a Trump supporters would have received as little attention. Obviously, this just another unhinged person among many on both sides. However, such videos do not support the narrative that the MAGA movement is fueling violence in society. The fact is that there is irresponsible rhetoric coming from both sides and plenty of disturbed people, like this student, who spew violent speech at those with whom they disagree.