We previously discussed the controversy covered by the New York Times over whether white parents should allow their children to dress as the Black Panther for Halloween. Now, people rise up in anger after Forever 21 used a white model in an advertisement for a Black Panther sweater. Most people would simply observe that the company is selling to people of all races who admire the superhero. Instead, Forever 21 apologized.
The model wore a sweater that read "Wakanda Forever."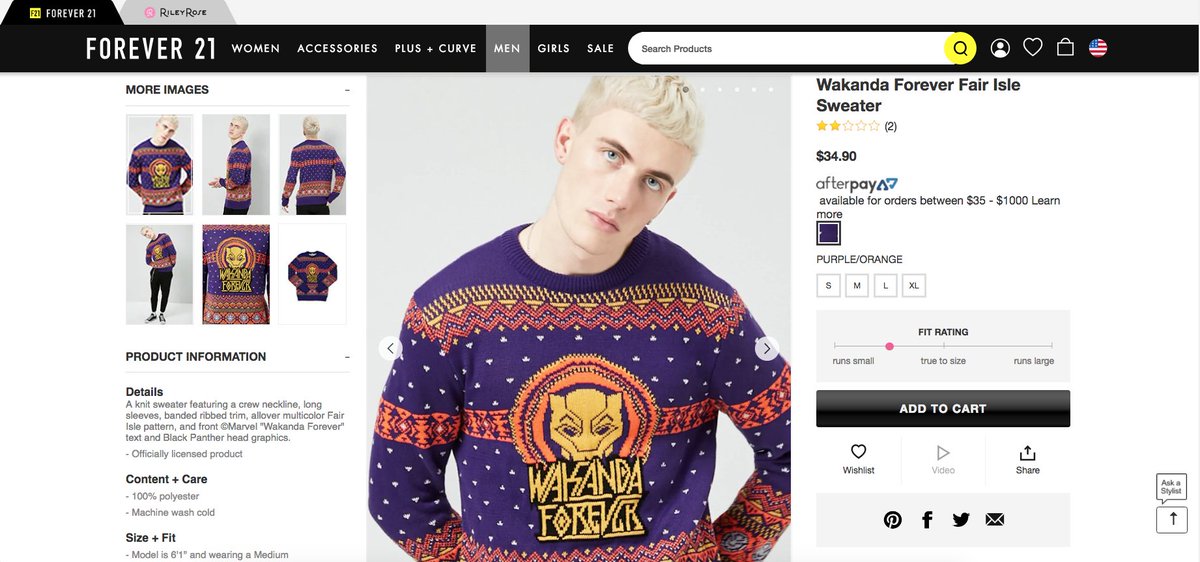 Social media users objected to the race of the model. One wrote: "Hey Forever 21, in what universe did you think it was OK to feature a white model in Wakanda gear? Granted, chances are you knew it wasn't OK, but still as a former #21Men brand specialist for the company. I'm highly offended." a social media user wrote. Another wrote "Wow Forever 21 is tone deaf af. Colonizers aren't praised in Wakanda. Try again."
Forever 21 deleted pictures of the model according to E! News and stated, "Forever 21 takes feedback on our products and marketing extremely seriously. We celebrate all superheroes with many different models of various ethnicities and apologize if the photo in question was offensive in any way."
Yet, the apology would suggest that it was wrong for a white model to wear a Black Panther shirt. It is hard to figure out what the standard will be going forward. Does this mean that the company will also discourage or restrict such sales to black customers? Is the company saying that it will now only interview models on the basis of race for different superhero products?