President Donald Trump is being widely and legitimately denounced today for a highly offensive image that retweeted of Speaker Nancy Pelosi and Senate Minority Leader Chuck Schumer in Muslim garb, including a statement that Anti-Defamation League CEO Jonathan Greenblatt that the image is "repulsive anti-Muslim bigotry." I have repeatedly objected to outrageous and unpresidential tweets by President Trump and I believe it is important for all of us to object to this type of offensive imagery and commentary. It has no place in our politics and certainly no place in presidential communications.
The Monday morning by Twitter user @D0wn_Under was shared by Trump with his 71 million followers with hours with the caption: "The corrupted Dems trying their best to come to the Ayatollah's rescue."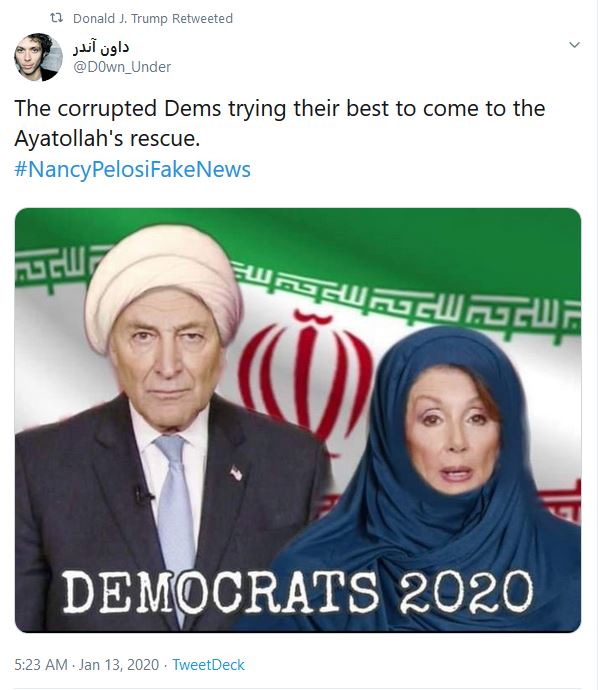 1,1601:46 PM – Jan 13, 2020Twitter Ads info and privacy498 people are talking about this
White House press secretary Stephanie Grisham caused a secondary flare up when she defended the President by accusing the Democrats of "almost taking the side of terrorists." That is grossly unfair to the Democrats and magnifies the concerns over the use of such images and insults in addressing your political opponents.
There has to be some modicum of decency and decorum in our politic debates that starts with the President. While some may find this image comical, it is highly insulting, highly inflammatory and highly unfair. It appeals to the lowest common denominator in our politics and fuels racial and religious divisions. We have a right to expect more from the White House.