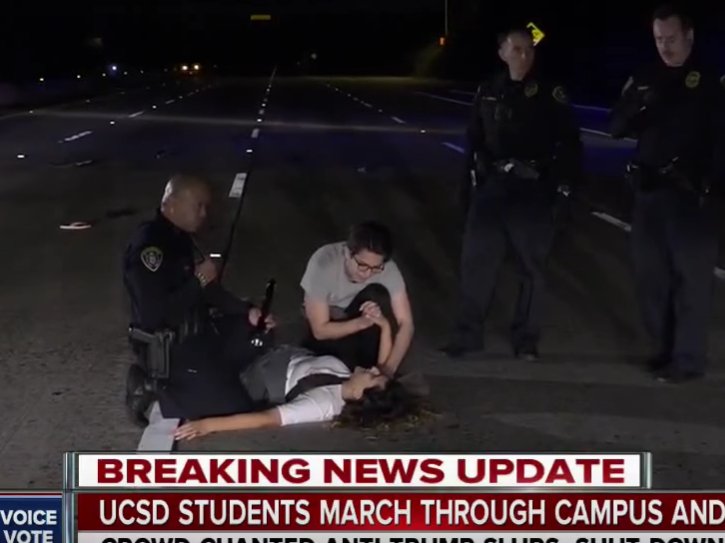 Mariana Flores, a sophomore at the University of California-San Diego, has a curious concept of not just tort liability but personal responsibility.  She is suing UCSD for being hit by a car on the highway.  However, she was taking part in a protest illegally blocking the highway at the time.  She is suing the University of California Regents, the city and county of San Diego, the state of California, and the driver of the car.
The protest was over the presidential victory of Donald Trump and Flores was demonstrating on I-5 (an eight lane highway) when the car hit her and crushed her pelvis, fractured her leg, and caused other injuries.  She does not blame herself or the protesters.  She blames the university for not stopping her from doing such a reckless thing.
Flores is arguing that the university was aware of the protest for hours without adequate planning.  She argues that university officials encouraged the protest and did nothing to control her and other protesters.
Flores' complaint maintains that anyone employed by the university who encouraged or supported the protest would be sufficient to established liability.
The effort is clearly to get a jury to find not that Flores was without fault but that there was comparative fault by UCSB.  The case is an argument against a "pure" comparative negligence standard like the one used in California.  In a pure comparative negligence jurisdiction, a plaintiff may recover damages even if he or she is more at fault than the defendant. The award is reduced by whatever the percentage of fault is assigned to the plaintiff.  Other states use a partial or modified comparative fault system where you are barred if you are 50 percent or more at fault in your own accident.  In the traditional contributory negligence states Flores would have been barred for even one percent of fault (absent a finding under "last clear chance" doctrines).
It is a good thing that UCSD is not simply caving into this lawsuit with a settlement. I fail to see the basis for liability based on the facts alleged by Flores.
What do you think?